CUBESAT separation systems
Apart from manufacturing of CubeSat separation system and its pre-launch preparation, the company provides part of the launch services for your spacecraft: integration of the spacecraft into the deployer, installation of the separation system on the launch vehicle of the agreed launch mission, setting up a specified CubeSat deployment program and separation in orbit.

COMPOSITION OF SEPARATION SYSTEM
Deployer
Deployer is an element of the separation system, an interface between LV and SC. It is used to adapt a group of CUBESATs to LV and separate SC from LV.
Deployer provides:
Availability of separate modules of 3U / 6U / 12U / 16U format (depending on configuration) for adaptation and separation of a group of CubeSats.
Compliance of mechanical interface parameters of each slot with the requirements of the corresponding CubeSat specification.
Additional volumes of SC payloads
Resistance of deployer structure to external mechanical qualification loads, normal operation after exposure to mechanical qualification loads.
Motionless locking of spacecraft in three axes during the flight.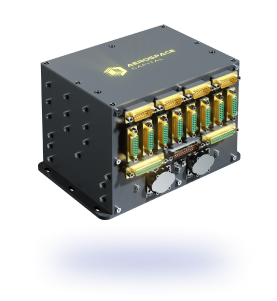 Sequencer
Sequencer is a control system of the deployer door unlocking and an element of the CubeSat/LV electrical interface.
Sequencer ensures:
Opening of the deployer doors in orbit according to a pre-set timeline.
Release of telemetry information about the CubeSat deployment.
Sequencer is equipped with a storage battery that provides power supply for the circuits of the door devices
SC ADAPTATION AND SEPARATION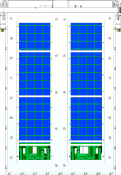 The satellite is secured in the deployer by clamping the spacecraft rails in the deployer slot.
Once the spacecraft is installed in place, the slot is locked by the door.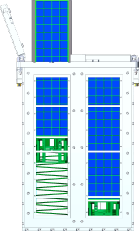 Sequential programmable unlocking of the slot doors in orbit.
Spacecraft are pushed out by springs.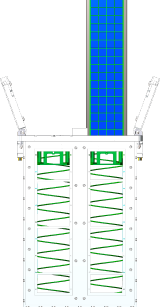 Recording the moment of CubeSat release from the slot and generating telemetry information.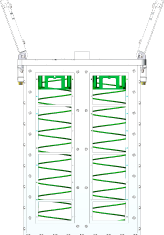 The door opening is controlled by electrical signals from the sequencer.
Technical solutions
The use of a group of dynamic rails for a separate 3U, 6U, etc. slot
Reliable side hold-down of the spacecraft (including for each SC of 1U format)
Redundancy of the locking mechanism in SC door
Minimizing the transfer of external loads to the key locking elements due to the mechanism's kinematic scheme
Solutions to avoid jamming during the operation of mechanisms
Reliability aspects during the launch and separation
Designing and manufacturing
Autonomous tests
Setup methods for SC separation
Safe delivery of SC into orbit
SC integration process
Optimal adjustment of the locking forces and moments (a separate set of parameters for each SC due to the adjustment features).
Flight test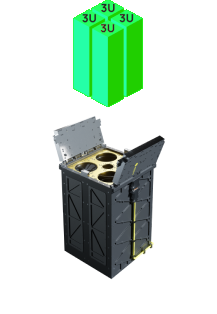 12U (4x3U)

3U CubeSat
1 SC up to 6 kg 100 x 100 x 340.5 mm
Flight test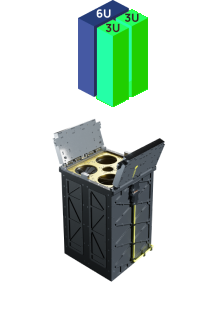 12U (2x3U+6U)

3U CubeSat
1 SC up to 6 kg 100 x 100 x 340.5 mm
Flight test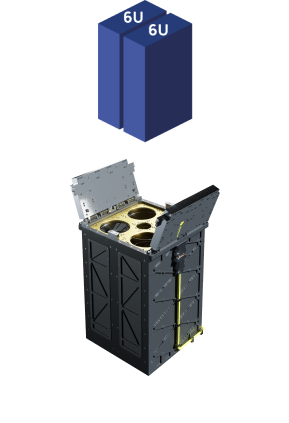 12U (2x6U)

6U CubeSat
1 SC up to 12 kg
266,3 x 100 x 366 mm
Flight test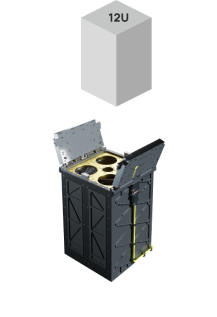 12U (1x12U)

12U CubeSat
1 SC up to 24 kg
266,3 x 266,3 x 366 mm
Next mission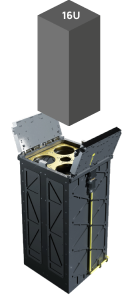 16U (1x16U)

16U CubeSat
1 SC up to 38 kg
266,3 x 266,3 x 454 mm